eSchools: Create your school's virtual learning environment!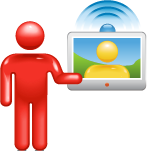 A virtual school in the clouds is the perfect companion to your bricks and mortar school.  No matter the time, place, or availability of your staff, your eSchool is always open.
Accessible from a web-connected digital device, each teacher has an eClassroom where students continue learning outside the face-to-face classroom. A virtual learning environment to successfully engage students !
Benefits
Providing a secure, protected virtual learning community
Build a true community of learners
Collaboration and resource-sharing for teachers, administrators, and curriculum specialists
Student-centered learning to meet the wide variety of needs
Engaged students using digital media for learning
No additional IT personnel or hardware
Included updates, support, and training
Cost-effective to meet budget demands
Deploy using computers, iPads, and SMARTboards
Features
eClassroom for every teacher
ePortfolio for students and teachers
Private social network 
Create groups around common goals or interests
Journal/Blog 
Collaborative tools
Store files and documents
Share a wide variety of multi-media resources 
Administration settings and oversight
Accounting/Reporting/Gradebook